Fees and Offers
Dental Implants at Dentalcare West are now more affordable than ever before, with treatment commencing from $2900. At Dentalcare West, we know experience and affordability are important factors to our patients. Contact us for your free one-on-one Dental Implants Information Session here.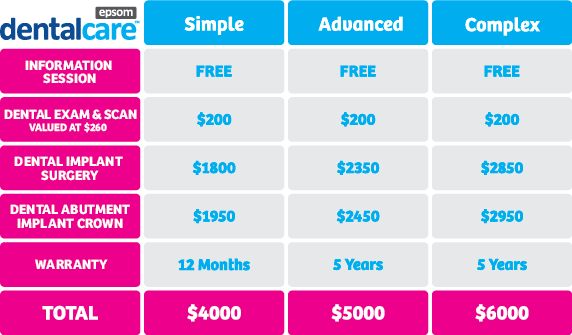 Terms and Conditions
Any surgical or invasive procedure carries risks. Before proceeding, you should seek a second opinion from an appropriately qualified health practitioner.
Please note that these costs are for a single tooth implant and crown, and are not inclusive of the consult fees, or any other required radiographs, as determined by your treating dentist.
The category you may need will be decided by the treating team of dentists and will be based on factors including but not limited to medical history, site of implant, adequacy of bone in the area and requirement of bone grafting. The type best suited for your clinical situation will be determined by surgeon and restoring provider, we will absolutely provide you with all the choices available within the realm of clinical condition as our aim is to provide the best treatment for your individual clinical requirements.

Simple category: Bluesky Bio Implant system used. Molar area implant with adequate bone density may be an example of simple category.
Advanced category: Advanced and complex categories will use implants from Mis /Straumann /Astra/3I/ Ankylos/ Nobel Biocare/Neos Implant systems (based on clinical requirement). Front tooth implant with reduced bone availability may be an example of advanced category.
Complex category: Front tooth/molar implant with inadequate bone, requiring bone grafting may be an example of complex category. (bone grafting costs included).

Patients may be able to choose from different combinations, e.g. advanced implant and simple crown based on clinical suitability.
Dentalcare West will endeavour to provide as much choice to patients as possible between implant and crown types within the limits of their clinical condition and requirements.
Prices for dental implants and crowns may be subject to change without notice. A written quote will be guaranteed for 6 months from the date of the quote.
Warranty terms and conditions will be discussed during time of information session.